you are the
visitor :3
this is a cavern of eyebleed, obscure media, autism, and gayness! and if that upsets you, i humbly ask that you turn around!! ┐(︶▽︶)┌ here i talk about things that don't matter to anybody but me, post my silly art, and splatter my brain all over the wall in terrible technicolor! (つ✧ω✧)つ
don't expect this layout to last, as im infinitely indecisive and love changing stuff on a whim (─‿‿─)
i'm in there...→

check out the other pages on my site to get to know me better :3 or don't and just look at the pretty colors, DO WHT U WNT (。•̀ᴗ-)✧
graphics n stamps that were too big for the sidebar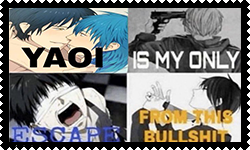 This page is protected by a
BUTTERFLY
The Large Blue butterfly is a species of carnivorous butterfly, and went extinct in Britain in 1979. It has since been reintroduced with new conservation methods.
Want your own? Visit hekate.neocities.org!
Cheese Test: What type of cheese are you?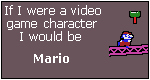 I am Mario.

I like to jump around, and would lead a fairly serene and aimless existence if it weren't for my friends always getting into trouble. I love to help out, even when it puts me at risk. I seem to make friends with people who just can't stay out of trouble. What Video Game Character Are You?

enjoy the site... love you forever